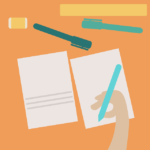 Specifications and formulas to learn
Smart QLAs (for registered schools only)
Note: Even if Question-Level Analysis (QLA) spreadsheets could be populated in zero time, the use of QLAs ought to come with a health warning. While there are benefits that can arise from their use, QLAs can also result in unintended consequences if not used appropriately! If you do wish to use QLAs however, read on…
Once populated, BossMaths QLA spreadsheets (linked in the table below) instantly generate personalised printouts for each student. There is NO NEED to upload the spreadsheet to the website; you simply print straight from Excel. The personalised printouts contain references to BossMaths lessons linked to each question.
Expand the box below to see examples of the personalised sheets for two students. Note that on each student's second page, the QLA intelligently suggests areas for students to prioritise. These priority areas are "low-hanging fruit" i.e. they are based on questions on which students are most likely to be able to gain 'easy' marks.
Examples of personalised student printouts...
In the table below you find class and cohort versions of each QLA. The class QLAs (typically around 1 MB) can take data for up to 40 students while the cohort QLAs (typically around 5 MB) can take data for up to 300 students. The QLAs are otherwise identical. Because of the formulas in the spreadsheets, older computers may struggle to load or run the cohort QLAs, but should be fine with the class QLAs.
Past papers, mark schemes, grade boundaries, and QLA links
Start typing in the search box to instantly filter by exam board, year, tier and month/season of sitting—e.g. OCR summer 2017 higher instantly brings up links to the relevant papers.
Year
Sitting
Board
Tier
Links
QLAs
9
8
7
6
5
4
3
2
1
Other
2023
June
AQA
Higher
Not publicly available
214
(89%)
186
(78%)
158
(66%)
125
(52%)
92
(38%)
59
(25%)
42
(18%)
Summer May
2023
June
AQA
Foundation
Not publicly available
189
(79%)
158
(66%)
117
(49%)
76
(32%)
35
(15%)
Summer May
2023
June
Edexcel
Higher
Not publicly available
203
(85%)
174
(73%)
145
(60%)
112
(47%)
79
(33%)
57
(20%)
31
(13%)
Summer May Pearson
2023
June
Edexcel
Foundation
Not publicly available
182
(76%)
147
(61%)
109
(45%)
71
(30%)
33
(14%)
Summer May Pearson
2023
June
OCR
Higher
Not publicly available
242
(81%)
193
(64%)
144
(48%)
109
(36%)
74
(25%)
39
(13%)
21
(7%)
Summer May
2023
June
OCR
Foundation
Not publicly available
178
(59%)
129
(43%)
92
(31%)
56
(19%)
20
(7%)
Summer May
2022
November
AQA
Higher
1H | MS
2H | MS
3H | MS
201
(84%)
172
(72%)
143
(60%)
111
(46%)
79
(33%)
48
(20%)
32
(13%)
Autumn Winter
2022
November
AQA
Foundation
1F | MS
2F | MS
3F | MS
167
(70%)
130
(54%)
97
(40%)
64
(27%)
31
(13%)
Autumn Winter
2022
November
Edexcel
Higher
Not publicly available
194
(81%)
165
(69%)
137
(57%)
104
(43%)
71
(30%)
38
(16%)
21
(9%)
Autumn Winter Pearson
2022
November
Edexcel
Foundation
Not publicly available
173
(72%)
135
56%)
100
(42%)
66
(28%)
32
(13%)
Autumn Winter Pearson
2022
November
OCR
Higher
Not publicly available
244
(81%)
202
(67%)
160
(53%)
123
(41%)
86
(29%)
49
(16%)
30
(10%)
Autumn Winter
2022
November
OCR
Foundation
Not publicly available
168
(56%)
117
(39%)
84
(28%)
51
(17%)
19
(6%)
Autumn Winter
2022
June
AQA
Higher
1H | MS
2H | MS
3H | MS
214
(89%)
185
(77%)
156
(65%)
121
(50%)
86
(36%)
51
(21%)
33
(14%)
Summer May
2022
June
AQA
Foundation
1F | MS
2F | MS
3F | MS
172
(72%)
135
(56%)
101
(42%)
67
(28%)
33
(14%)
Summer May
2022
June
Edexcel
Higher
1H | MS
2H | MS
3H | MS
194
(81%)
165
(69%)
137
(57%)
104
(43%)
71
(30%)
38
(16%)
21
(9%)
Summer May Pearson
2022
June
Edexcel
Foundation
1F | MS
2F | MS
3F | MS
173
(72%)
135
(56%)
100
(42%)
66
(28%)
32
(13%)
Summer May Pearson
2022
June
OCR
Higher
4H | MS
5H | MS
6H | MS
242
(81%)
200
(67%)
158
(53%)
120
(40%)
82
(27%)
45
(15%)
26
(9%)
Summer May
2022
June
OCR
Foundation
1F | MS
2F | MS
3F | MS
170
(57%)
119
(40%)
85
(28%)
52
(17%)
19
(6%)
Summer May
2021
November
AQA
Higher
1H | MS
2H | MS
3H | MS
192
(80%)
155
(65%)
119
(50%)
90
(38%)
62
(26%)
34
(14%)
20
(8%)
Autumn Winter
2021
November
AQA
Foundation
1F | MS
2F | MS
3F | MS
145
(60%)
108
(45%)
79
(33%)
51
(21%)
23
(10%)
Autumn Winter
2021
November
Edexcel
Higher
1H | MS
2H | MS
3H | MS
187
(78%)
154
(64%)
122
(51%)
93
(39%)
65
(27%)
37
(15%)
23
(10%)
Autumn Winter Pearson
2021
November
Edexcel
Foundation
1F | MS
2F | MS
3F | MS
173
(72%)
135
(56%)
100
(42%)
66
(28%)
32
(13%)
Autumn Winter Pearson
2021
November
OCR
Higher
4H | MS
5H | MS
6H | MS
239
(80%)
193
(64%)
147
(49%)
115
(38%)
83
(28%)
51
(17%)
35
(12%)
Autumn Winter
2021
November
OCR
Foundation
1F | MS
2F | MS
3F | MS
155
(52%)
121
(40%)
87
(29%)
53
(18%)
20
(7%)
Autumn Winter
2020
November
AQA
Higher
1H | MS
2H | MS
3H | MS
194
(81%)
159
(66%)
124
(52%)
95
(40%)
67
(28%)
39
(16%)
25
(10%)
Autumn Winter
2020
November
AQA
Foundation
1F | MS
2F | MS
3F | MS
146
(61%)
116
(48%)
86
(36%)
56
(23%)
26
(11%)
Autumn Winter
2020
November
Edexcel
Higher
1H | MS
2H | MS
3H | MS
189
(79%)
157
(65%)
126
(53%)
96
(40%)
66
(28%)
37
(15%)
22
(9%)
Autumn Winter Pearson
2020
November
Edexcel
Foundation
1F | MS
2F | MS
3F | MS
165
(69%)
136
(57%)
99
(41%)
63
(26%)
27
(11%)
Autumn Winter Pearson
2020
November
OCR
Higher
4H | MS
5H | MS
6H | MS
241
(80%)
195
(65%)
150
(50%)
117
(39%)
84
(28%)
52
(17%)
36
(12%)
Autumn Winter
2020
November
OCR
Foundation
1F | MS
2F | MS
3F | MS
158
(53%)
123
(41%)
88
(29%)
53
(18%)
18
(6%)
Autumn Winter
2019
November
AQA
Higher
1H | MS
2H | MS
3H | MS
Cohort QLA
Class QLA
199
(83%)
168
(70%)
137
(57%)
107
(45%)
78
(33%)
49
(20%)
34
(14%)
Autumn Winter
2019
November
AQA
Foundation
1F | MS
2F | MS
3F | MS
Cohort QLA
Class QLA
162
(68%)
134
(56%)
98
(41%)
62
(26%)
27
(11%)
Autumn Winter
2019
November
Edexcel
Higher
1H | MS
2H | MS
3H | MS
Cohort QLA
Class QLA
197
(82%)
165
(69%)
133
(55%)
103
(43%)
73
(30%)
43
(18%)
28
(12%)
Autumn Winter Pearson
2019
November
Edexcel
Foundation
1F | MS
2F | MS
3F | MS
Cohort QLA
Class QLA
166
(69%)
142
(59%)
104
(43%)
67
(28%)
30
(13%)
Autumn Winter Pearson
2019
November
OCR
Higher
4H | MS
5H | MS
6H | MS
Cohort QLA
Class QLA
245
(82%)
204
(68%)
163
(54%)
131
(44%)
100
(33%)
69
(23%)
53
(18%)
Autumn Winter
2019
November
OCR
Foundation
1F | MS
2F | MS
3F | MS
Cohort QLA
Class QLA
176
(59%)
139
(46%)
102
(34%)
65
(22%)
28
(9%)
Autumn Winter
2019
June
AQA
Higher
1H | MS
2H | MS
3H | MS
Cohort QLA
Class QLA
206
(86%)
171
(71%)
136
(57%)
105
(44%)
74
(31%)
43
(18%)
27
(11%)
Summer May
2019
June
AQA
Foundation
1F | MS
2F | MS
3F | MS
Cohort QLA
Class QLA
157
(65%)
122
(51%)
89
(37%)
57
(24%)
25
(10%)
Summer May
2019
June
Edexcel
Higher
1H | MS
2H | MS
3H | MS
Cohort QLA
Class QLA
198
(83%)
167
(70%)
137
(57%)
108
(45%)
80
(33%)
52
(22%)
38
(16%)
Summer May Pearson
2019
June
Edexcel
Foundation
1F | MS
2F | MS
3F | MS
Cohort QLA
Class QLA
184
(77%)
149
(62%)
111
(46%)
73
(30%)
36
(15%)
Summer May Pearson
2019
June
OCR
Higher
4H | MS
5H | MS
6H | MS
256
(85%)
213
(71%)
171
(57%)
136
(45%)
102
(34%)
68
(23%)
51
(17%)
Summer May
2019
June
OCR
Foundation
1F | MS
2F | MS
3F | MS
189
(63%)
144
(48%)
104
(35%)
64
(21%)
24
(8%)
Summer May
2018
November
AQA
Higher
1H | MS
2H | MS
3H | MS
Cohort QLA
Class QLA
194
(81%)
160
(67%)
126
(53%)
96
(40%)
66
(28%)
37
(15%)
22
(9%)
Autumn Winter
2018
November
AQA
Foundation
1F | MS
2F | MS
3F | MS
Cohort QLA
Class QLA
153
(64%)
121
(50%)
88
(37%)
56
(23%)
24
(10%)
Autumn Winter
2018
November
Edexcel
Higher
Linked zip file
Cohort QLA
Class QLA
194
(81%)
159
(66%)
125
(52%)
95
(40%)
66
(28%)
37
(15%)
22
(9%)
Autumn Winter Pearson
2018
November
Edexcel
Foundation
Linked zip file
Cohort QLA
Class QLA
167
(70%)
132
(55%)
96
(40%)
61
(25%)
26
(11%)
Autumn Winter Pearson
2018
November
OCR
Higher
4H | MS
5H | MS
6H | MS
Cohort QLA
Class QLA
239
(80%)
193
(64%)
147
(49%)
118
(39%)
90
(30%)
62
(21%)
48
(16%)
Autumn Winter
2018
November
OCR
Foundation
1F | MS
2F | MS
3F | MS
Cohort QLA
Class QLA
180
(60%)
154
(51%)
113
(38%)
72
(24%)
31
(10%)
Autumn Winter
2018
June
AQA
Higher
1H | MS
2H | MS
3H | MS
Cohort QLA
Class QLA
201
(84%)
169
(70%)
138
(58%)
107
(45%)
77
(32%)
47
(20%)
32
(13%)
Summer May
2018
June
AQA
Foundation
1F | MS
2F | MS
3F | MS
Cohort QLA
Class QLA
161
(67%)
125
(52%)
92
(38%)
59
(25%)
27
(11%)
Summer May
2018
June
Edexcel
Higher
Linked zip file
Cohort QLA
Class QLA
202
(84%)
170
(71%)
139
(58%)
109
(45%)
79
(33%)
50
(21%)
35
(15%)
Summer May Pearson
2018
June
Edexcel
Foundation
Linked zip file
Cohort QLA
Class QLA
169
(70%)
136
(57%)
101
(42%)
66
(28%)
31
(13%)
Summer May Pearson
2018
June
OCR
Higher
4H | MS
5H | MS
6H | MS
Cohort QLA
Class QLA
256
(85%)
210
(70%)
164
(55%)
129
(43%)
94
(31%)
60
(20%)
43
(14%)
Summer May
2018
June
OCR
Foundation
1F | MS
2F | MS
3F | MS
Cohort QLA
Class QLA
187
(62%)
146
(49%)
105
(35%)
64
(21%)
24
(8%)
Summer May
2017
November
AQA
Higher
1H | MS
2H | MS
3H | MS
Cohort QLA
Class QLA
194
(81%)
159
(66%)
124
(52%)
96
(40%)
68
(28%)
40
(17%)
26
(11%)
Autumn Winter
2017
November
AQA
Foundation
1F | MS
2F | MS
3F | MS
Cohort QLA
Class QLA
157
(65%)
127
(53%)
93
(39%)
59
(25%)
25
(10%)
Autumn Winter
2017
November
Edexcel
Higher
Linked zip file
Cohort QLA
Class QLA
189
(79%)
150
(63%)
112
(47%)
85
(35%)
58
(24%)
32
(13%)
19
(8%)
Autumn Winter Pearson
2017
November
Edexcel
Foundation
Linked zip file
Cohort QLA
Class QLA
145
(60%)
113
(47%)
83
(35%)
53
(22%)
23
(10%)
Autumn Winter Pearson
2017
November
OCR
Higher
4H | MS
5H | MS
6H | MS
Cohort QLA
Class QLA
238
(79%)
191
(64%)
145
(48%)
111
(37%)
77
(26%)
44
(15%)
27
(9%)
Autumn Winter
2017
November
OCR
Foundation
1F | MS
2F | MS
3F | MS
Cohort QLA
Class QLA
149
(50%)
117
(39%)
85
(28%)
54
(18%)
23
(8%)
Autumn Winter
2017
June
AQA
Higher
1H | MS
2H | MS
3H | MS
Cohort QLA
Class QLA
189
(79%)
157
(65%)
125
(52%)
98
(41%)
72
(30%)
46
(19%)
33
(14%)
Summer May
2017
June
AQA
Foundation
1F | MS
2F | MS
3F | MS
Cohort QLA
Class QLA
156
(65%)
124
(52%)
91
(38%)
59
(25%)
27
(11%)
Summer May
2017
June
Edexcel
Higher
Linked zip file
Cohort QLA
Class QLA
190
(79%)
157
(65%)
124
(52%)
96
(40%)
68
(28%)
41
(17%)
27
(11%)
Summer May Pearson
2017
June
Edexcel
Foundation
Linked zip file
Cohort QLA
Class QLA
158
(66%)
122
(51%)
90
(38%)
58
(24%)
26
(11%)
Summer May Pearson
2017
June
OCR
Higher
4H | MS
5H | MS
6H | MS
Cohort QLA
Class QLA
248
(83%)
203
(68%)
159
(53%)
121
(40%)
83
(28%)
46
(15%)
27
(9%)
Summer May
2017
June
OCR
Foundation
1F | MS
2F | MS
3F | MS
Cohort QLA
Class QLA
174
(58%)
126
(42%)
93
(31%)
60
(20%)
28
(9%)
Summer May